IDC MarketScape names OpenText a Leader in Worldwide Multi-Enterprise Supply Chain Commerce Network (SCCN)
Driving digital transformation with a Leader in supply chain network solutions
In its recent analysis of providers of multi-enterprise supply chain commerce networks, IDC named OpenText™ a Leader for its scale, expertise, global reach and focus on investment and growth.
IDC's five tips for participating in multi-enterprise supply chain commerce networks.
The latest supply chain management trends, changes and technologies.
How a forward-looking vision for a supply chain management solution can futureproof supply chains and business operations.
The strengths of OpenText SCCN solutions—ranging from integration depth and service breadth to its strategic SAP partnership and network of more than 600,000 trading partners worldwide.
Get the IDC MarketScape brief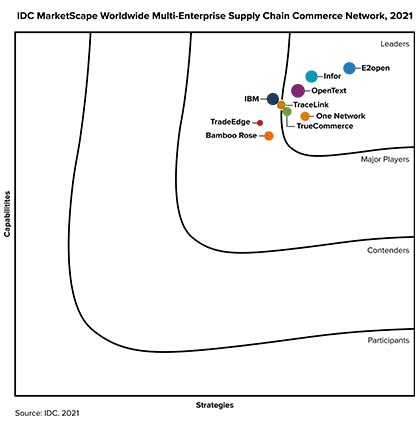 What separates a supply chain management Leader from the rest? Foresight!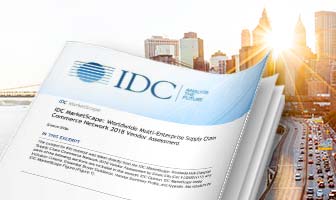 The OpenText vision for an intelligent supply chain is one that prepares enterprises for today's requirements and tomorrow's opportunities. In other words, it is...
Connected: Streamlines processes via B2B integration and a digital backbone for secure, compliant information exchange among all stakeholders.
Collaborative: Promotes rich collaboration between people, systems and things.
Intelligent: Leverages AI, IoT and analytics to predict outcomes and automate operations.
Get the IDC MarketScape brief
Enabling the intelligent and connected supply chain
With a complete cloud-based supply chain commerce network platform to drive efficient and secure collaboration, enterprises:
Optimize complex B2B operations and lower costs.
Accelerate time to revenue and expand market reach.
Improve customer experiences and compliance.
Innovate and enable supply chain transformation.
OpenText Business Network by the numbers
IDC MarketScape: Worldwide Multi-Enterprise Supply Chain Commerce Network 2018 Vendor Assessment, Simon Ellis, IDC US44514117, December 2018
IDC MarketScape vendor analysis model is designed to provide an overview of the competitive fitness of ICT suppliers in a given market. The research methodology utilizes a rigorous scoring methodology based on both qualitative and quantitative criteria that results in a single graphical illustration of each vendor's position within a given market. The Capabilities score measures vendor product, go-to-market and business execution in the short-term. The Strategy score measures alignment of vendor strategies with customer requirements in a 3-5-year timeframe. Vendor market share is represented by the size of the icons.