Manage a modern workforce
OpenText™ Extended ECM for SAP® SuccessFactors® can help organizations simplify human resource processes to drive better business results. Explore how to find the right talent, develop future leaders and engage all employees with automated, transparent processes and a digital HR experience.
Download this infographic to learn how to address common HR process deficiencies with best practices for workforce optimization to: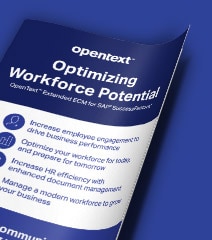 Increase employee engagement to drive business performance.
Optimize workforces for today's world and prepare them for tomorrow.
Increase HR efficiency with enhanced document management.
Manage a modern workforce to grow business.
British American Tobacco (BAT) turns to the OpenText Cloud to improve employee file management
To learn more about how BAT achieved a global, single source of the truth for employee records, read the whole story.
OpenText SAP® SuccessFactors® solutions provide cloud-based human capital management (HCM) software globally. SAP SuccessFactors HCM Suite integrates onboarding, social business and collaboration tools, a learning management system, performance management, recruiting software, applicant tracking software, succession planning, talent management and HR analytics. The suite delivers business strategy alignment, team execution and maximum people performance to organizations of all sizes across more than 60 industries.