Join OpenText at SAPinsider Financials 2019
Research shows 66 percent of organizations say their most significant business challenge is content that exists in silos1, hindering their ability to gain insights. Rein in financial content chaos and drive digital transformation.
Visit OpenText™ at Booth 1050 during SAPinsider Financials 2019 in Las Vegas from March 19-21 to learn how OpenText financial solutions for SAP® capture, digitize and extend all critical data to SAP applications—when, where, and how it is needed.
Get on-the-spot advice and demos of OpenText's award-winning finance solutions, co-developed and tested against SAP's Premium Qualification standards. Plus, get freebies, prizes and the latest thought leadership insights on digital transformation in finance.
OpenText speaking session
Wednesday, March 20 at 2:30 pm
A digital content platform for SAP financials: Make better decisions and eliminate errors
Financial transformation begins with going digital. But, 80 percent of supporting documentation for both direct and indirect transactions is still paper-based.1 Don't get left behind!
Learn why a digital content platform is essential in supporting your transition to an Intelligent and Connected Enterprise. Explore how an intelligent enterprise, based on a digital content platform, can help mitigate risk and you make faster financial decisions.
Learn how to:
Quantify the direct and indirect financial impacts of ECM,
Eliminate manual entry and errors with intelligent capture,
Reduce delays and response times with automated sales order and goods receipt processing,
Utilize workspaces to manage access and controls, and,
Measure and optimize timing, performance, and volume metrics.
Speaker: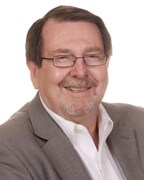 Tom Walker
Senior Program Manager
SAP Finance Center of Excellence, OpenText
Book a free strategy session with an OpenText SAP expert
Schedule a demo and strategy session now to learn how OpenText end-to-end financial information management solutions help get the most from SAP® investments through complete data integration and process automation.
See interactive demos of solutions, including OpenText™

Extended ECM for SAP® Solutions
Vendor Invoice Management for SAP® Solutions
Business Center for SAP® Solutions
And, the exciting new Information Extraction Service for SAP® Solutions

Get strategies and best practices for extending ECM into lead SAP applications, digitizing unstructured information via intelligent capture, driving seamless customer experiences with C/4HANA and much more.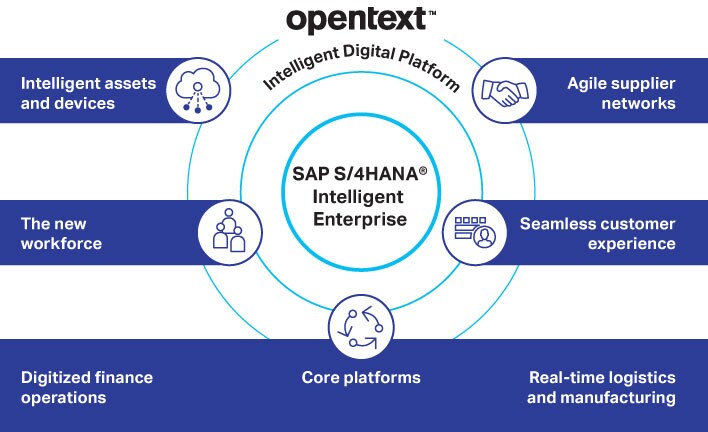 OpenText has been an SAP partner for 24+5 years and powers the #1 cloud platform for SAP users. Learn how OpenText helps create intelligent and connected financial enterprises.
Discover OpenText finance solutions for SAP
Vendor Invoice Management
Typically, 20 percent of processed invoices create 80 percent of invoice-management headaches. It is time to break this vicious cycle!
OpenText™ Vendor Invoice Management (VIM) for SAP® Solutions streamlines Accounts Payable (AP) operations for SAP customers by simplifying the process of receiving, managing, monitoring and routing invoices and all other related documentation.
Read the product overview and the Bumble Bee Foods success story.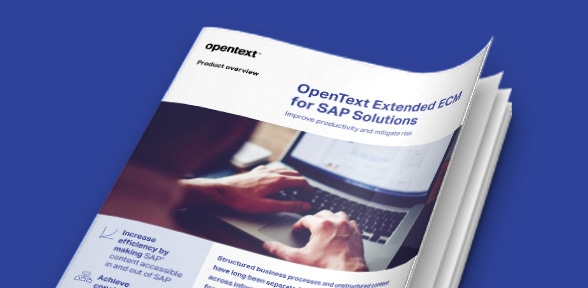 Extended ECM for SAP Solutions
Boost productivity and mitigate risk by eliminating the need to search for misplaced financial documents or switch between applications with a 360° view of critical data.
OpenText™ Extended ECM for SAP® Solutions makes content management a feature of every SAP solution, helping organizations reduce time and effort spent managing, organizing and sharing information across business processes.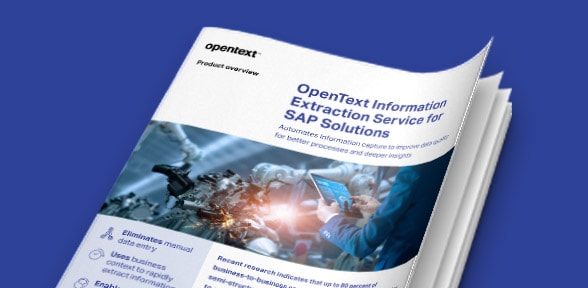 OpenText Business Center for SAP Solutions
Tired of manual data entry? Research shows 80 percent of B2B communications are still not digital.2 It is time to accelerate digital transformation and improve efficiency.
OpenText™ Business Center for SAP® Solutions provides the tools necessary to move from manual to automated financial processes, capturing and validating relevant information from any incoming source to initiate the SAP process.
Read the product overview and Wavin success story.
OpenText Information Extraction Service for SAP Solutions
Still receiving purchase orders, invoices and contracts via email? Tired of manually capturing and classifying content and initiating financial processes? Eliminate the grunt work and make the most of SAP solutions.
OpenText™ Information Extraction Service for SAP® Solutions fully automates the digitization of incoming SAP-related documents via intelligent optical character recognition (OCR) technology utilizing machine learning.
Why OpenText for SAP?
Chosen as SAP's strategic EIM solution
5,000 joint customer
100% cloud on-premises and HEC supported
9 new solutions available in 2019
100+ offices around the globe
Meet with an OpenText SAP expert at
SAPinsider Financials 2019
1 AIIM, What does it Mean for CRM Processes to be both Intelligent AND Connected?, 2018.