Why every medical devices company needs to embrace the EU MDR
The new EU Medical Device Regulation (EU MDR) introduces sweeping reforms that will disrupt the European medical devices industry. To comply, manufacturers will have to undergo a costly and complex process to prepare a structured, enterprise-wide approach to readiness.
This paper discusses how a comprehensive Enterprise Information Management (EIM) platform can help organizations meet the governance, transparency, collaboration and data processing requirements of the EU MDR.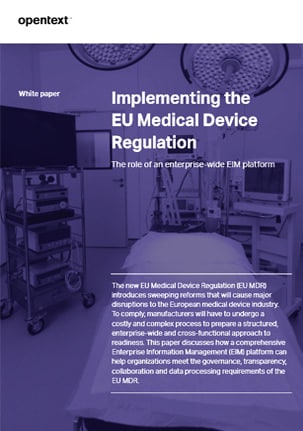 Download the EU MDR white paper to learn about:
Risks and opportunities of the regulation
The EU MDR timetable for transitions
Enterprise information requirements for the EUDAMED database
The role of EIM for key EU MDR provisions in documentation, clinical trials, device assessment, quality management, UDI and labeling, supply chain visibility and post-market surveillance
Using EU MDR for competitive advantage