The Information Advantage is improving patient outcomes
Simplify unified process collaboration and compliance
One of the greatest challenges for life sciences companies that bring a developed drug from research and development through to market is ensuring required regulatory documentation is complete, accurate and controlled in accordance with each phase of the drug's lifecycle. This requires a coordinated effort across the enterprise, supported by an integrated content management system to meet goals for efficiency, cost control and productivity.
Download the white paper
Breaking Down Information Silos
Download this white paper to learn how to:
Ensure complete, accurate and carefully controlled documentation for each phase of a developed drug's lifecycle
Eliminate process breakdown in the handoff of information from one domain to another with a unified solution layer
Seamlessly link content between business domains to drive efficiency and reduce compliance risk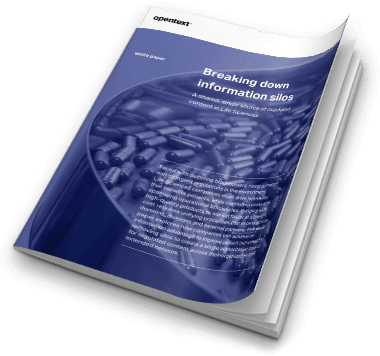 Gain control of regulated content
Bringing safe, high-quality products to market faster and at a lower cost requires unifying processes that extend across domains, divisions and external partners.
Companies can unlock the Information Advantage of improving patient outcomes by breaking down information silos and creating a single authoritative source for regulated content across the organization and extended network.
Download the white paper to learn more.