Is AI right for your organization? How can AI add value to your business?
More than 90 percent of U.S. executives say they believe cognitive technologies are an important aspect of internal business processes.1 Yet, many business leaders remain unsure about how to create and deploy a successful artificial intelligence (AI) practice in their organizations.
Get this white paper to learn the benefits of introducing AI into an organization, plus how to create both a data science team and a successful data-science and AI strategy. Read about: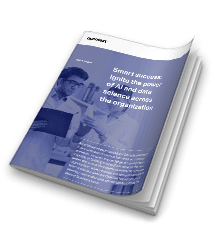 The benefits of AI
A comprehensive step-by step process for managing a successful AI project
Meaningful use cases that highlight the potential and business benefits of AI
Guidance for creating a high-performing data science team.
Move forward in the journey to AI
AI helps organizations make smarter data-driven decisions and eliminates tedious and repetitive processes.
Save time and money

Drive Efficiency

Stay competitive

Improve security
Get the white paper
Smart Success: Igniting the power of AI & data science in your business
1Deloitte, The 2017 Deloitte State of Cognitive Survey. (2017)