Leveraging Magellan™ and AI to analyze unstructured data
The Internet of Things, social media and enterprise content all have one thing in common, they generate vast quantities of data faster than ever. So much so that picking out relevant information and assembling it into meaningful patterns is challenging.
These new data sources also generate unstructured data, such as text and emojis, that does not fit neatly into traditional database structures. However, this data can hold valuable insights on important and hard-to-quantify concepts, such as social sentiment.
How can organizations identify and extract relevant information from all the data generated and bring out its context? How can that data offer the knowledge to increase value to customers? Watch this IDG webinar to get the answers to these and many more questions.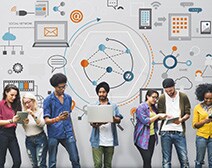 How to analyze any data, especially the treasure trove of text and other Big Content within the enterprise.
Typical use cases, including applying live sentiment analysis for realtime decisions.
Start turning data insights into competitive advantage. Watch the webinar now.