Education Software Solutions

Modernize digital experiences for global educational institutions Contact us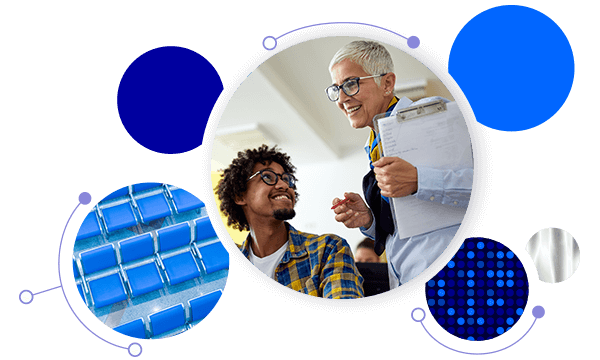 Experience the next-normal for K-12 and higher education
OpenText™ for Education helps K-12 and higher ed institutions build trusted and secure digital ecosystems with solutions purpose-built for the industry.
Accelerate the future
of education

Deliver technologies built for the new normal in rapid, compressed timeframes.

Deliver omnichannel student and alumni experiences

Connect content silos and build next-generation, omnichannel experiences.

Enable education-specific
integrations

Integrate, manage and securely exchange student data across people, systems and things.
Content
OpenText for Education enhances the availability and value of information across educational ecosystems.
Leverage an education management solution that ensures rapid access to information when, where and how it is needed.

Extract student and alumni data trapped in unstructured text to become a more proactive institution.

Accelerate productivity and improve data governance to guarantee consistent and relevant content delivery.
Experience
OpenText for Education delivers intelligent, relevant and efficient omnichannel experiences for institutions around the world.
Create personalized experiences that resonate with students, faculty, alumni and families on any device at anytime, anywhere.

Bring content to the core of every citizen interaction, whether on the phone, in person or on any digital channel.

Automate content storage and delivery processes based on organizational rules for mission-driven outcomes.
Intelligent forms
OpenText for Education delivers simple yet powerful form design and automates both faculty and student-facing forms-driven applications.
Enable educational institutions to facilitate two-way stakeholder interactions with a rich, flexible and powerful interface.

Ensure forms and people-driven processes are effective, efficient and responsive for positive stakeholder experiences.

Collect and validate accurate information securely over the web and control the routing of forms, information and collected documents.
Security
OpenText for Education addresses enterprise risk, information security and digital investigation needs with industry-leading forensic-grade solutions.
Detect and respond faster

Expose and address elusive risks, threats and anomalous activity before they have a chance to harm the organization.

Accelerate investigation timelines

Spend more time investigating and less time analyzing data with automatic processing and indexing functions.

Automate incident response

Mitigate threat damage through automation to ensure viable and safe environments.
Find out how OpenText helps to transform Educational institutions
Customer success stories in Education