The Information Advantage gives every company a chance to save the planet
Move to a greener, more efficient supply chain
The automation and digitizing of manual paper transactions through a cloud-based business network contributes to the reduction of carbon emissions across an extended enterprise.
Watch the webinar
How Digital Supply Chains Establish More Sustainable Business Environments
Automated electronic transactions contribute to green supply chains and provide cost savings from productivity benefits and carbon footprint reduction.
Watch the webinar to learn about:
Sustainability market trends
Automating the procure-to-pay process
Benefits of developing a green supply chain
Examples of green supply chains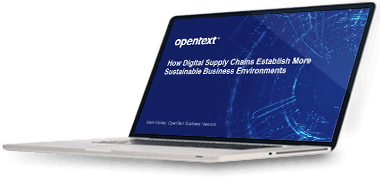 Learn how OpenText™ Trading Grid™ support efforts to make supply chains greener and introduce sustainable working practices. Trading Grid digitizes 26 billion paper-based transactions per year, helping to save the planet by significantly reducing carbon dioxide emissions and saving millions of trees.