Consumer Goods solutions
Boost customer loyalty, create engaging experiences, optimize supply chain processes and anticipate market demand with OpenText Consumer Goods solutions

Today's challenges
Consumer Goods companies, including those involved with food and beverage production, packaged goods, clothing and electronics, face a number of challenges.
Grabbing, and keeping, consumers' attention
Companies must leverage technology and produce quality content to boost customer engagement and better anticipate and influence consumers' path to purchase.
Fluctuating inventory demands
A lack of visibility into future demand and poor inventory management can drive up costs and hinder customer satisfaction and loyalty.
Getting personal with buyers
Consumers are more educated than ever about their buying options, driving the need for relevant, connected experiences and more localized and customized products.
The need for supply chain agility
Consumers' expectations for faster fulfillment requires improved supply-chain processes, from materials procurement through responses to consumer feedback.
OpenText Consumer Goods solutions benefits
Improve customer lifetime value

Create compelling customer interactions.

Gain inventory control with AI and analytics

Maintain continuous operational improvements and meet customer demand.

Deliver customized, impactful experiences

Build customer trust and brand awareness.

Optimize and automate supply chain processes

Achieve realtime visibility across the transaction lifecycle.
OpenText Consumer Goods solutions
Safeguard external digital data
Read the IDG report to learn how to secure the digital supply chain's people, systems and things with identity and access management.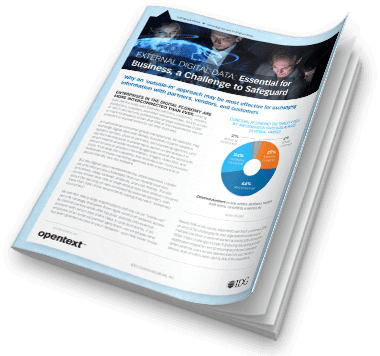 Contact us to speak with a member of the Consumer Goods team