OpenText Document Presentment for SAP Solutions
Streamline and automate content generation and distribution from SAP solutions, including SAP SuccessFactors and SAP Hybris
OpenText™ Document Presentment provides a platform for the enterprise-wide design, deployment and multi-channel delivery of documents and correspondence, whether digital or conventional, in batch or on-demand, including interactive correspondence with OpenText Document Presentment Live add-on to turn documents into dialogues. It enables business users to generate individual and real-time changeable correspondence while still maintaining a central control of branding and corporate identity. Maximize the effectiveness of communications by providing a single, consistent look and feel across all devices and improve effectiveness of communications across the enterprise.
OpenText Document Presentment is an enterprise-grade solution that scales from individual correspondence and emails to automated high-volume billing or shipping processes.
Business user control: Give business users full control of their content for better business value and reduced time to market. Generate personalized, editable CRM, HR, EAM, SCM, etc. documents in real-time, and distribute multi-channel – directly from the SAP® UI and process.
Reduced TCO: Consolidate and streamline output systems and processes throughout the company and eliminate dependency from numerous formatting and printing tools, Word based solutions, or other 3rd party technologies. Relieve IT from ongoing document maintenance, and reduce costs for operations.
Single platform for all Enterprise Content Management needs: Create, manage, transform and distribute content cross the enterprise with tight integration to:
SAP and non-SAP systems
OpenText Extended ECM for collaboration and records management
OpenText Document Access for 360 degree view of all documents
OpenText Digital Asset Management for streamlined creation and management of consistent brand assets
OpenText cloud for real-time customer notifications including email, fax, text messages and more.

Customer Success Stories
Many customers have achieved measurable benefits when deploying the OpenText Document Presentment for SAP Solutions.
Contact OpenText
Engage With Us

Linkedin Group
SAP Pinnacle Awards 2018 Winner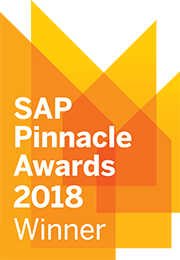 OpenText is proud to be recognized by SAP® with two Pinnacle Awards: Solution Extension Partner and Database and Data Management Partner of the year. It is the 10th consecutive year we've won the Solution Extension award; winning two awards this year is remarkable. SAP presents these awards to top partners who excel in partnering with SAP and helping customers run better.