OpenText LiquidOffice
Overview
PRODUCT DETAIL
CUSTOMERS
RESOURCES
Just about everything we do today is driven by information. Accurate, complete and timely information results in more productive processes, reduced risk and customer satisfaction. Many organizations today are undergoing a complete digital transformation and are looking for efficient ways to collect and process information from their customers. High costs, low efficiency and higher risk of errors typically associated with manual processes to capture, validate, review and route information are some of the common challenges many businesses face.
OpenText™ LiquidOffice is an intelligent forms automation solution that enables organizations to automate document and forms-driven processes using electronic forms and workflow capabilities for improved efficiency, control and customer satisfaction.

LiquidOffice enables you to easily create electronic forms for data collection across the enterprise, route forms and information for review and approval, and automate forms-driven processes for improved efficiency and control. For processes involving people, information and content, LiquidOffice can have a significant impact on productivity, customer service and the bottom line.
Product Highlights
Design Web and PDF forms with WYSIWYG tools
Model business processes and control the flow of data and documents between employees and customers
Securely access from Desktop, Web, Mobile Devices, and Offline
Monitor and analyze activities, remove bottlenecks and improve control
Combine paper and electronic forms solutions with TeleForm
Accelerate EIM and CEM processes with integrated solutions
LiquidOffice provides organizations with an easy way to create and provide access to eForms with rich functionality, and automate forms-driven processes. LiquidOffice streamlines cumbersome processes while making them consistent and auditable, for more reliable outcomes, fewer errors and reduced compliance risk. Through integration with EIM systems, LiquidOffice allows access to information at any time and from anywhere resulting in better customer, supplier and employee satisfaction.
LiquidOffice can dramatically increase productivity by routing forms and information for easy review, eliminating idle time between tasks, and assembling all of the information needed to make quick decisions resulting in better customer, supplier and employee experience and satisfaction.
LiquidOffice has many powerful capabilities that make it a solution of choice for organizations: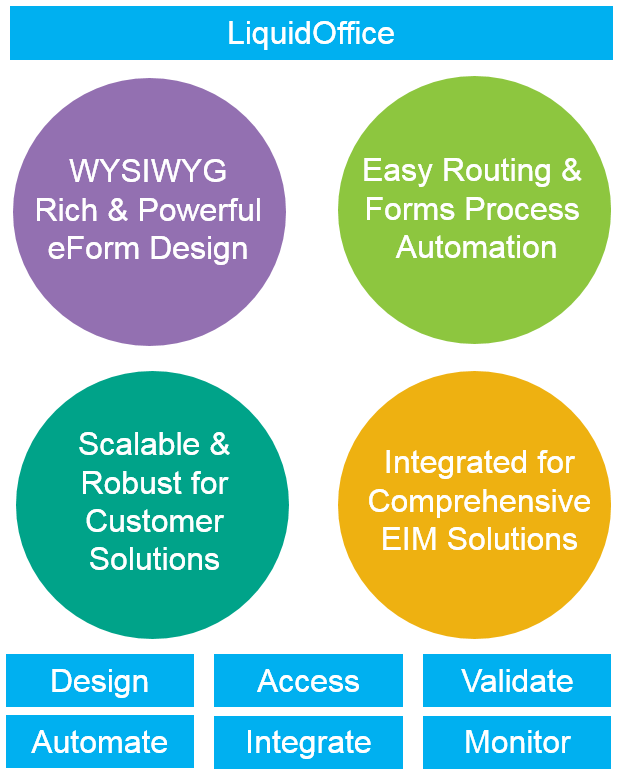 Simple yet Powerful eForms design
Access to eForms from anywhere at anytime
People and forms driven Process Automation
Robust, Scalable, and Secure solution for enterprise-level eForms
Rich customization and scripting capabilities for solution development
Seamless integration with TeleForm for a comprehensive Intelligent Forms Automation solution
Fast implementation and time to value
Experienced Partners and Consultants to help with end-to-end solution delivery
Contact OpenText
Learn More