What is Hybrid IT?
Hybrid IT is the current reality for enterprise IT computing where services, applications, systems, technologies and resources are delivered from both on-premises or leased data center facilities, as well as public cloud-based services. In-house resources can be separately described as traditional system environments as well as private cloud. The goal for Hybrid IT is to gain the benefits of an improved user experience and more agile deployments that public cloud provides, across traditional and private cloud environments so that the best cost option can transparently be provided to enterprise users.
For some organizations, the definition of "hybrid IT" is narrower and refers to systems that make use of both public and private resources simultaneously. These truly hybrid systems, have many benefits but typically must be architected and can be more difficult to automate effectively without the proper management toolset. If organizations make use of multiple public clouds along with on-prem resources but do not create systems that bridge those boundaries, that type of IT strategy might be more correctly termed "Multi-Cloud" as opposed to "Hybrid". However, the term "Hybrid IT" has become so widely used in business and IT organizations, that an enterprise may use "Hybrid IT" for all variations of modern IT services, environments, resources and their toolsets.
---
Why do we need Hybrid IT Management?
Hybrid IT Management is a needed strategy to reduce the cost and risk of meeting the demands of digital transformation (DX) in a more unified way, since DX is delivered with a mix of cloud and traditional technologies that interact. It makes use of an intentionally-crafted, IT management software toolset designed to work consistently across hybrid IT targets and environments, deliver business-requested services at the pace the business needs, operate them efficiently and effectively along their lifecycle, and govern their use to help maintain secure operations and compliance of all IT services and facilities.
Hybrid IT Management solutions simplify the complexity of delivering IT services across fully hybrid, multi-cloud and on-premises domains while effectively operating those services. This is a specific approach and strategy to management toolsets, which must be reflected in the IT organization, the staff, and their processes (people, process, technology). If not addressed effectively, the complexities of managing a dynamic, diverse, and unpredictable hybrid IT landscape can reduce IT agility and slow business innovation.
---
Driving the complexity – Multiple operations management toolchains
As digital services multiply and mergers and acquisitions occur, each enterprise develops their own unique management tool footprint and strategy. IT infrastructure and operations teams implement management tools for each sub-section of cloud and legacy environment work, while scripting integrations to link these point-management tools into functioning process workflows. Large organizations have come to recognize the high costs associated with the maintenance of redundant software tools, funding and maintaining fragile integrations, and assigning seasoned staff to tool and integration oversight.
---
What are the three approaches to IT Management?
There are three common but divergent choices taken by organizations when determining their management tool strategy.
The first direction is a single vendor approach, which largely frees the enterprise from the cost of creating their own integrations if their current business use cases are covered by a vendor's monolithic toolset. However, this path also incurs the cost and disruption of replacing all existing management tools during this implementation as well as negating the investment in any automation content that had been created to support those in-place tools. IT automation options are now limited to that vendor's offerings, along with their supported use cases and accompanying integrations. In the future, as business requirements evolve, building or customizing content to support any newly arising use cases may be costly and make upgrading to new tool editions much more costly - locking the IT organization into continuing the use of the current, customized revision of the toolset.
The second approach involves purchasing many individual point management tools from a variety of vendors where each tool has a narrow focus or is hybrid-environment specific. This approach is called "best of breed" and can lead to the implementation of a diverse but fragmented set of software tools to provide coverage across broad enterprise IT automation requirements. The goal of this strategy is to provide the best automation for each narrow requirement but may lead to having an automation toolset that is optimized at the individual team-member level as opposed to elevating the overall IT effort. Additionally, in this case, the overall management software license spend may increase.
The primary challenge arising from a best-of-breed strategy is the need for the creation and maintenance of many separate tool-to-tool integrations that are required to stitch these disparate tools into semi-automated processes. In addition, since these tools do not share a common development approach, aligning and coordinating data and automation content along each process adds to the integration complexity. Achieving data coordination across multiple vendors will be difficult, limiting the value of any analytics or machine learning capabilities contained in separate tools. Scripted integrations become brittle over time, as tool revisions constantly diverge. Finally, only a few senior, expert IT staff are able to maintain these integrations.
Hybrid IT Management as a Third Option
The third alternative strategy is represented by a Hybrid IT Management approach. Here, a set of proven, enterprise-scale IT operations management solutions are employed that can integrate with, and work alongside, existing legacy and cloud tools. This middle-ground approach avoids the disruption of a 'rip and replace' approach while providing the opportunity to employ broad, end-to-end automation value streams that work to minimize disruption, maximize IT effectiveness, and reduce the need for creating custom integrations.
Successful hybrid IT management requires the adoption of a consistent business process and collaborative approach between separate silo management teams. Different teams will have different objectives and measurements that will direct their actions, but they can work better together when using a common set of management tools. The intention is not to force a merger of cloud teams, but to standardize how automation works across each silo, enabling a consistent business system approach for IT. In this way, adopting a hybrid IT management mindset will help drive IT cultural change and technology evolution.
One key value of hybrid IT management is the ability to view processes in a more abstracted way. When IT adopts a hybrid but business-architecture aligned process to create services, tools or technologies can be changed or inserted as needed and become replaceable building blocks in a well-functioning tool chain. This allows automation content and workflows to be leveraged across teams, allowing best practices to be shared and instantiated within different parts of the IT organization. In this way, a hybrid IT management strategy allows a single toolset to support teams who are responsible for different technologies at different levels of maturity – and allow each team to progress at their own pace toward new technologies – without the need to retool the management automation framework.
---
What key IT challenges does Hybrid IT Management address?
A diversity of providers increases the friction of user and IT interactions
A wide variety of service and resource requests must be fulfilled
Each additional service makes maintaining a positive experience more difficult
Services must meet security, compliance and cost controls – regardless of their delivery model
---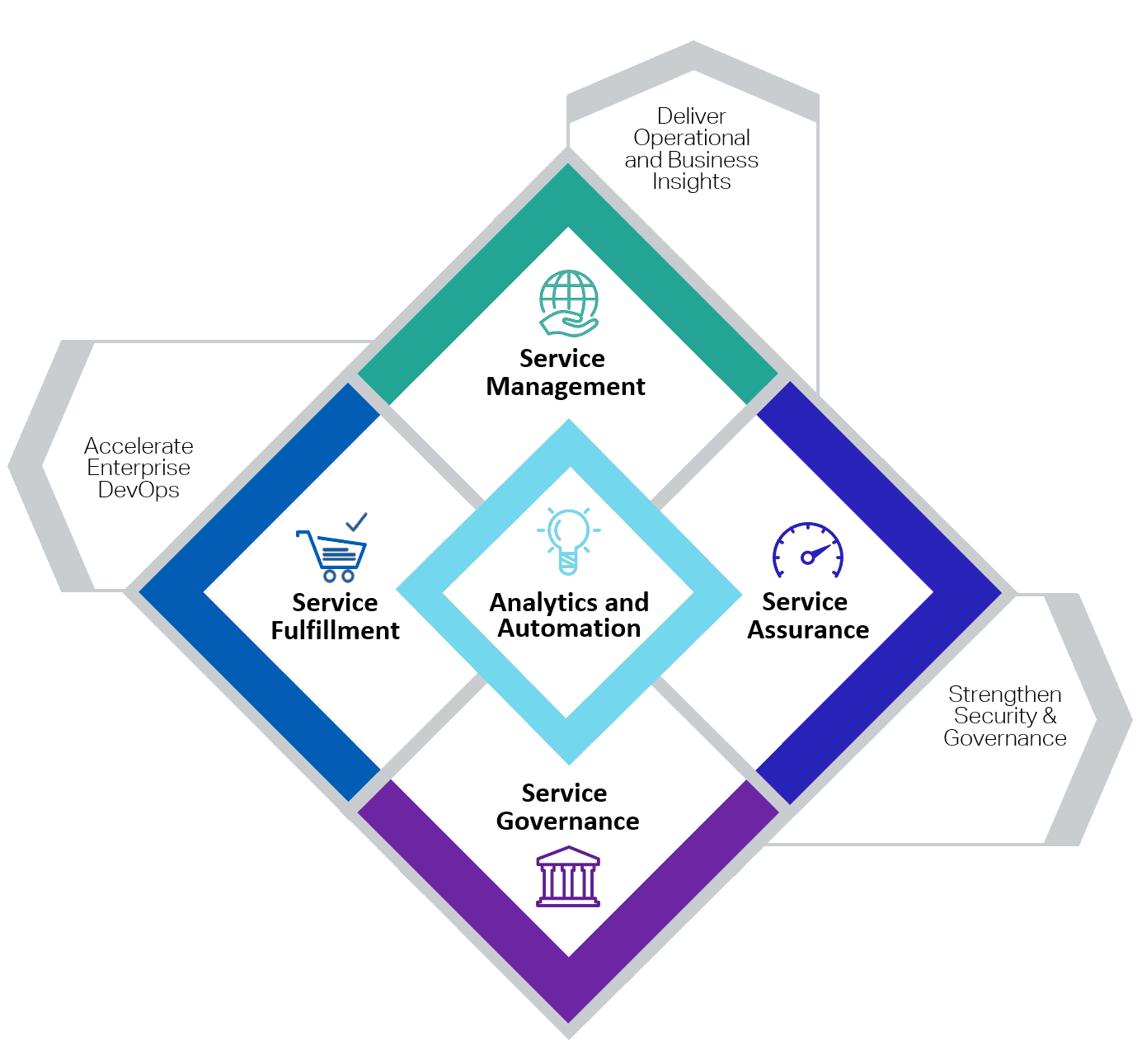 Reducing the friction of IT service consumption: Service Management
Today, users must learn multiple interfaces and processes to request IT services, lowering user satisfaction with IT while increasing the workload on IT staff to manage those requests and processes.
Using a Hybrid IT Management approach to OpenText™ Service Management, IT delivers personalized self-service through a single modern interface for both business and IT users. With automated responses and virtual agents – powered by machine learning – users quickly receive needed services, minimizing the burden on IT staff. A coherent approach to service management automates all key processes while enabling IT to continuously discover hardware, software, and services, understand their interdependencies and better inform change management priorities. A modern toolset will allow IT to proactively assess the risk or impact of changes and use predictive analytics to direct ongoing improvements.
Learn more about Service Management:
---
Meeting demand at the speed of DevOps: Service Fulfillment
Business teams demand rapid resource provisioning from any hybrid source. If IT is slow to respond, external services are used by default, limiting IT's visibility and context while decreasing the funding available to IT. Unless IT commits to a hybrid-capable toolset, it will be difficult for IT to take advantage of the cost efficiencies offered by each environment or offer business-tuned hybrid systems.
With a Hybrid IT Management approach to Service Fulfillment, IT employs a central resource control system that directs the design, fulfillment, and Day Two management of all IT environments, regardless of target. Catalog requests are flexibly automated based on deployment-time choices – allowing a streamlined set of catalog designs to fulfill a wide range of resource requests. An adaptive set of catalog offerings enables cost-effective delivery of tuned hybrid systems at 'public cloud only' speeds – while keeping the number of catalog entries manageable. A service fulfillment-oriented toolset, enables users to consume best-fit services, reducing fulfillment cycle times. In this way, IT optimizes their use of both public and private cloud – maximizing IT resource utilization and delivering at a business pace.
Learn more about Service Fulfillment
---
AIOps brings clarity to problems and resolutions: Service Assurance
As services are delivered through multiple cloud and corporate channels, the complexity of determining the root cause of problems rises exponentially. Traditional monitoring tools are no match for the enormous and fast-growing volume of events – leading to poor user experience and manually intensive troubleshooting.
With a Hybrid IT Management approach to Service Assurance, IT shifts to automated, AI-based and business-outcome focused management – powered by OpenText™ AIOps. Armed with accelerated responses and AI-driven insights, IT visualizes the health of end-to-end services across cloud and on-prem resources, applying AI to proactively spot anomalies, and automating remedial actions to reduce business downtime and the cost of IT operations. With a hybrid-capable management toolset, IT leverages continuous real-time correlation, historical analysis, predictive analytics, and interactive visual analytics to inform every action, while swiftly analyzing data from any source, in any format, and at any scale.
Learn more about Service Assurance:
---
Reimagining IT's governance role with the business: Service Governance
Hybrid IT is the perfect place for infrastructure vulnerabilities to hide and costs to covertly grow. With limited visibility into the state of risk within multiple clouds and data centers, IT struggles to mitigate vulnerabilities and maintain compliance. Without a more coherent approach to IT governance, security breaches, audit failures, regulatory fines, brand damage, data loss, ransomware attacks and ungoverned cloud costs are more likely.
With a Hybrid IT Management approach to service governance, IT overcomes current tool limitations to provide consistent configuration, patching, backups and cost governance for both in-cloud or on-prem environments. Comprehensive governance automation reduces the risk of security breaches and unplanned expenditures while allowing IT to work cooperatively with the business to reduce risk. Application-coherent OpenText™ backup and disaster recovery automation preserves business application availability to better protect the business across their diverse and distributed technology estate.
Learn more about Service Governance:
---
Hybrid IT Management requires common analytics and automation
A hybrid IT management-based approach to automation and orchestration allows IT to consolidate and maintain a single, master-level set of automation processes while leveraging out-of-the-box workflow libraries to tune and immediately adopt. These master orchestration workflows, are able to direct other management tools, consuming and executing their scripts to fully automate the vast majority of repetitive IT processes and actions across all functional areas.
To be effective, machine learning and analytics must be able to look across more than one small dataset at a time. To make that a reality, a common data lake structure must be implemented that reaches beyond individual tools while automatically conforming all incoming data to maximize utility. Employing a hybrid IT management-based approach to analytics and machine learning will employ analytics as a core shared service available across all domains.
Learn More about Analytics and Automation
---
Conclusion and recommendation
A hybrid IT management approach automates key functional areas within IT operations while enabling IT to retain tools that currently work well. Broad, end-to-end process automation improves response and delivery times while supporting all hybrid environments. In this approach, IT can free experienced staff from tool oversight, allowing them to concentrate on higher-value activities. Employing a hybrid-capable toolset enables IT to become more service-driven, leveraging common analytics and automation to accelerate business transformation initiatives.
OpenText recommends a Hybrid IT Management strategy as the most practical and rational approach to enhancing IT's ability to respond and support business dynamics in a multi-cloud and hybrid IT world.
Using these solutions holistically, IT teams can employ a connected service delivery model that is based on IT4IT and supported by best practices. Employing this hybrid IT management strategy internally has allowed OpenText to deliver a connected-services toolset as the core of a modern software factory that has generated significant, measurable benefits.
Most importantly, the adoption of a hybrid IT management approach does not require a single, monolithic implementation effort but works best when evolving and modernizing IT process automation across the functional areas of IT, in a flexible, step-wise but coordinated fashion.
Visit OpenText Hybrid IT Management for more information or review our Hybrid IT Management brochure.