Digital Experience
Create customers for life
Deliver intelligent, relevant and efficient omnichannel experiences.
See how OpenText™ Experience Platform helps intelligently create, personalize and deliver true omnichannel experiences at scale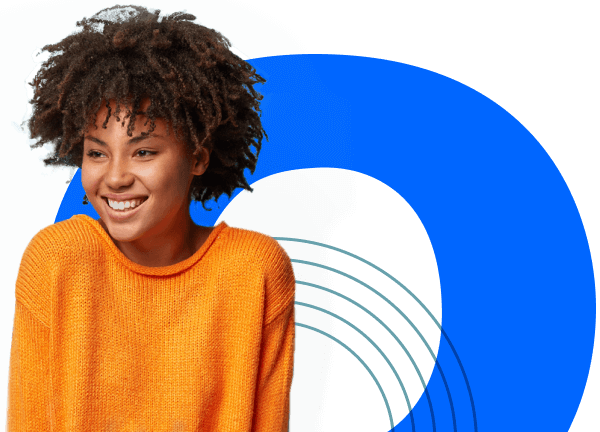 OpenText Customer Experience Management is now OpenText Digital Experience
Make the right impact as your customers interact with your brand. The OpenText™ Experience Platform provides the solutions you need to connect entire customer journeys – across all critical touchpoints – ensuring you exceed expectations while optimizing operations.
Create frictionless experiences

Plug and play platform

Make data-driven decisions

Transform business at individual pace
Your customers are evolving with technology. Are you? Explore how to create a continuous, connected customer journey that optimizes customer engagement and satisfaction for B2C, B2B and B2E experiences.
OpenText named a leader in the Omdia Universe: Selecting a Digital Experience Management Solution, 2020-21 report
Download the report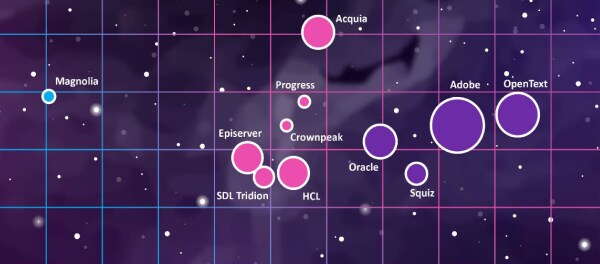 Benefits of the OpenText Digital Experience Platform
Improve

customer experience

Create personalized experiences that resonate with audiences on any device at any time, anywhere.

Optimize

operations

Realize the value of each investment while extending capabilities across the entire organization.

Enable

new business models

Adapt to customer expectations as they change with new ways to sell, engage and assist.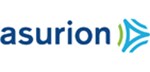 Asurion
Learn how Asurion leverages data to put the customer at the center of every experience with the OpenText Experience Platform.
Read the story
OpenText Experience Platform Capabilities
Bring content to the core of every customer interaction whether it is on the phone, in person or on any digital channel. Customize the solution to your specific requirements using any combination of the following capabilities:
Content Management

Content authoring, self-service apps, omnichannel delivery, personalized experiences

Digital Asset Management

Digital repository / media storage, usage control, media transformation, adaptive media delivery, brand portals

Customer Analytics, AI & Insights

AI, customer journey mapping, cross-channel interactions, closed loop feedback, speech & text analytics, testing & segmentation

Customer Communications

Personalized omnichannel communications, business content authoring, interactive editing, output management, automatic document generation

Process & Collaboration

No code / low code connections, content review and approval, creative collaboration, file sharing & sending

Voice & Contact Center

Workforce optimization, personal assistant, offline customer engagement, 1:1 touchpoint, two-way interactions

Messaging & Unified Communications

Omnichannel messaging (SMS, MMS, email, voice mail, etc.) and unified communications

Data, Integration & Security

Manage identities, specify access, connect with tech. Stack (A2A), extend OpenText capabilities, back-up & recovery, end-point security

Digital Fax

Secure paperless eFaxing with pre-built integrations for sensitive documents along the customer journey
Forms
Digitize documents, data collection & processing
What's new in Digital Experience
Customer Experience Orchestration

New AI-assisted authoring capabilities

Improved collaboration with agencies and extended teams

Real-time conversation analytics for call centers

Unified Messaging applications to empower workers anywhere

Cloud-first and simplified deployment options
Resources

Choose the right CX KPIs
Learn how to increase customer loyalty by filtering and analyzing huge amounts of data to find the most important KPI metrics.
Watch the webinar

Make customer voices matter
Find out how digital transformation leaders are creating richer experiences and outpacing their less-digitally savvy peers.
Download the survey brief

Transform the digital Journey
Create great customer experiences that drive customer loyalty in Financial Services.
Read the white paper
Download the eBook
Delivering the continuous, connected customer journey. Get started.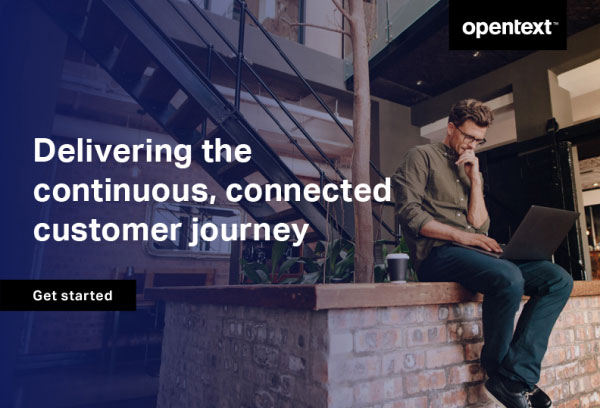 Learn how OpenText can empower Information Management across the organization