Mewburn Ellis LLP
Mewburn Ellis LLP On the Case with OpenText eDOCS DM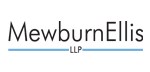 Document and Case Management rolled out enterprise wide at Mewburn Ellis, greatly reduced paper storage, costs, and sped up processes.
Challenge
Extensive retention periods meant paper storage volumes were continually growing, raising cost and slowing processes

Inbound communications not reaching recipient fast enough

Inability to see the complete picture of documentation relating to a client or case

Difficulty for a partner to take over another's case load
Product(s)
Value
Digitisation of paper and electronic capture of

documents significantly reduces paper creation

and storage volumes, reducing costs

Inbound communications now reach recipient

faster, improving efficiency and client servicing

Partners can take over a case and be sure they

have a complete view of all documentation
About Mewburn Ellis LLP
Mewburn Ellis LLP, with offices in Manchester, London, Cambridge, and Bristol, is one of the UK's largest firms of European Patent Attorneys, European Trade Mark Attorneys, and European Design Attorneys. Their work covers a wide range of technologies, offering independent to large multinational clients unrivalled expertise and outstanding service. Founded in the late 1800s, Mewburn Ellis now have thirty-three partners and over 180 staff, serving clients in the UK, Europe, and beyond.