Marel
Marel Remains on the Cutting Edge with OpenText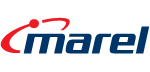 OpenText StreamServe helps improve speed and flexibility at global organisation
Challenge
Marel needed a stable, flexible solution to manage the global organisation's multi-lingual, and sometimes complicated, printing processes.
Product(s)
Value
Improved speed and flexibility
Easy-to-use solution
Seamless integration with SAP
Significant reduction in errors
Improved operational efficiency
About Marel
Marel is the leading global provider of advanced equipment, systems, and services to the fish, meat, and poultry industries. With offices and subsidiaries in over 30 countries on six continents and a global network of over 100 agents and distributors, Marel employs more than 3,700 people worldwide. Their business units are located in the Netherlands, Denmark, the United States, and Iceland.