Media Logistics
Innovative technology helps Media Logistics attract new clients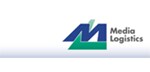 In their continuous aim to put the customer first, Media Logistics wished to develop a more reliable daily magazine distribution process to 14,000 news outlets in the Benelux region.
Challenge
Until recently, Media Logistics' distribution process was both time-consuming and error-sensitive. The daily routine involved packing magazines into crates and preparing the necessary client documentation, printed in batches by large laser printers; packing slips, return slips for unsold magazines, return stickers and invoices. The crates and documentation were then transported to 34 depots in the region, where local transporters would come the next morning to pick up the crates and sort the documents, adding the right papers for the right client to the right crate. However, Media Logistics was increasingly unsatisfied with the inefficiencies of the process.
Product(s)
Value
Today, the improved efficiencies generated by the new document management process have saved 52,000 hours annually for Media Logistics' contracted drivers, and have led to improved output quality and significant savings in the internal document management process.
About Media Logistics
Media Logistics is the logistics division of Dutch media group Audax, which specializes in physical magazine distribution from warehousing to transport and fulfilment. Media Logistics performs these services for the Audax group companies and for third parties.