Quest Diagnostics
Medical Services Provider Creates Highly Effective Document Review System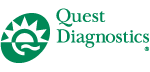 Quest Diagnostics customizes OpenText Media Management to improve review process
Challenge
Quest Diagnostics struggled with a document review process that was too manual and inefficient. Document turnaround times were slow and the team had difficulty managing image usage rights.
Product(s)
Value
The OpenText solution has enabled a more efficient and automated document review process at Quest Diagnostics. Administrative efforts have been significantly reduced and faster document turnaround times have resulted in an increased production of marketing collateral per year.
About Quest Diagnostics
A Fortune 500 company, Quest Diagnostics is the world's leading provider of diagnostic testing, information, and services. It is based in the US and serves half of all hospitals and physicians in the US, performing testing for approximately 550,000 patients every day.