G20 Summit
First-ever Use of Secure Mobile Social Networking by World Leaders Delivers Enhanced Collaboration for G-20 Summit.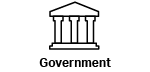 Robust mobile social networking from OpenText, Canada's largest software company, improves global synergy before, during and after events held in Canada.
Challenge
It is normal practice for the G-20 finance ministers and central bank governors to meet once a year. Because the G-20 is based on open and constructive dialogue and analysis, the organization was looking for a platform that would enable them to collaborate online before, during and after the annual meeting. The system had to be secure, mobile and globally accessible.
Product(s)
Value
Senior diplomats and other officials were able to collaborate in the months prior to the June 26-27 event so that when the Summit got under way, they were better prepared
Robust, enterprise-level controls to guarantee security and privacy
Secure and persistent access to the community; mobile access from anywhere in the world in real time, delegates are also able to access the application from their BlackBerrys, iPhones and iPads
Productivity gains beyond simple email with multilingual support, social networking tools, secure content management and very little training required
The network is a self-governing community which facilitates senior level collaboration
Improved access to Summit-related information via a corresponding social network, G20Net offering services such as a 24-hour ask a librarian, for the media, businesses and other participants
The G20Network will be used for the 2010 G20 Summit in the Republic of Korea, where it promises to further expand the relevance of the Summit to a broader, global audience.
About G20 Summit
The Group of 20 (G-20) was first established in the wake of the Asian financial crisis of the late 1990s as a meeting of finance ministers and central bank governors. Its goals were to bring stability to financial markets and to promote economic cooperation. Membership consists of advanced and emerging economies from all regions of the globe.
With the onset of the global financial crisis in 2008, the G-20 was seen as the most effective forum to lead global efforts to stem the crisis and mitigate its effects. At separate summits in Washington, London and Pittsburgh, G-20 leaders gathered to stabilize the financial system, coordinate national economic policies to steer the world towards recovery and ensure that the international financial institutions were provided with the right underpinnings and adequate resources.