Financial Services Customer
Simplifying the User Experience with OpenText Enterprise Connect™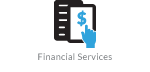 International financial services company enabling employees to access and share business content in preferred work environment to improve user adoption
Challenge
User acceptance and product usability. The requirement to access multiple interfaces to find information reduced productivity. The inability to share information reduced efficiencies. For usability improvement, the company purchased OpenText Enterprise Connect.
Product(s)
Value
With Enterprise Connect, staff will be able to access and interact with their business content without having to leave their preferred working environment. This will significantly improve productivity as users will not have to access different systems, across different interfaces, to search for information. Users will be able to access all relevant documents from within one central, familiar interface. It simply allows workers to get to the information faster, shortening the lifecycle of not only capturing the new information, but sharing that information.
About Financial Services Customer
This Fortune 500 international financial services firm offers a broad array of financial products and services to consumers, small businesses, and commercial clients.