Non-Profit Healthcare Organization - OpenText ECM Suite
Working Together to Build Healthy Communities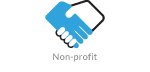 OpenText combines collaborative portal and Web content management solutions to support knowledge sharing at not-for-profit healthcare organization
Challenge
The organization needed to improve internal communications systems and procedures. Employees and partners were relying solely on email and shared folders as a way to communicate and share strategic, clinical, and operational information. Collaborative opportunities were being missed due to the lack of an effective means to share knowledge and best practices.
Product(s)
Value
Integration of portal, collaboration, and content management solutions fosters the free flow of information and ideas in an engaging, collaborative environment. Improved communications systems and procedures enable more timely and effective outcomes for system implementations, corporate responsibility, and clinical quality improvement. Rapid site creation resulted in immediate productivity gains for users.
About Non-Profit Healthcare Organization - OpenText ECM Suite
This national nonprofit healthcare organization consists of more than 100 hospital, long-term care, assisted, independent living, and residential facilities located across the U.S.