Suffolk University
Suffolk University Attains a Higher Degree of Web Content Management with OpenText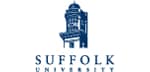 OpenText Web Site Management improves online offerings at Suffolk
Challenge
Difficulty maintaining brand consistency and a slow and inefficient process for managing Web content.
Product(s)
Value
Web site expansion accelerated; brand consistency implemented; easier maintenance of web content; widespread user adoption and built-in controls to manage web content.
About Suffolk University
Suffolk University is located in downtown Boston, Massachusetts. Established in 1906, the university offers degrees in more than 70 areas of study, and has additional campuses in Dakar, Senegal and Madrid, Spain.