Rio Tinto
Rio Tinto Mines Rich Vein with OpenText Web Solutions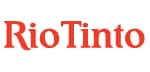 OpenText Web Site Management helps create a consistent brand across a global Web site
Challenge
Rio Tinto wanted to better communicate a consistent brand and required clarity and governance over their worldwide Web presence. They needed the ability to populate Web pages with locally-generated content, all with consistent presentation and corporate image.
Product(s)
Value
Rio Tinto transformed their Web presence into a consistent, professional, and highly-effective global communications medium that meets both corporate and local needs.
About Rio Tinto
Rio Tinto has grown enormously since smart investors purchased a local mine in southern Spain in 1873 and turned it into a profitable business. Today, Rio Tinto is one of the world's largest mining and exploration companies, mining and processing metals and minerals that include aluminium, copper, iron ore, diamonds, coal, uranium, gold, and industrial minerals. In the natural pursuit of mineral deposits, Rio Tinto has operations in more than 50 countries. In 2008, the company employed around 65,000 people, and revenue for 2007 was more than $30 billion.