City of Atlanta, Department of Watershed Management
City of Atlanta, Department of Watershed Management Uses OpenText for $4B Clean Water Atlanta Program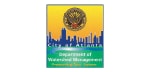 OpenText ECM Suite improves efficiencies, enables compliance, and ensures retained and accessible documents
Challenge
The City of Atlanta, Department of Watershed Management needed to be more efficient in terms of the way it managed and retrieved information and be able to report, submit, and retain documents for the EPA and EPD consent decrees. Other challenges include:
no audit trail and limited version control
soaring storage costs and slow collaboration between bureaus on document creation and review
limited accountability and transparency
inefficiencies due to manual business processes
Product(s)
Value
content is secured and centrally managed throughout the life cycle;
easy access to information results in improved efficiencies;
enhanced customer service;
improved compliance with government regulations;
improved records management of all vital documents
About City of Atlanta, Department of Watershed Management
The Department of Watershed Management is dedicated to providing the highest quality drinking water and wastewater services to City of Atlanta businesses and residents and to its wholesale customers at the lowest possible cost. Its mission is to protect urban waterways, conserve natural resources, and provide clean, safe water for Atlantans and their downstream neighbors.