Global Bank Achieves Regulatory Compliance
Global Bank Achieves Regulatory Compliance with OpenText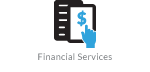 Achieving ADA and WCAG Version 2.0, Level AA compliance with OpenText™ Automated Output Accessibility
Challenge
• Comply with the Americans with Disabilities Act (ADA) and WCAG 2.0 to protect the business from lawsuits.
• Reduce costs associated with traditional document remediation services (Braille, large print or audio formats).
• Improve document delivery speed to customers.
• Create an inclusionary environment for the visually impaired by not asking to opt-in for special services.
Product(s)
Value
• Accessibility for both historical and new statements, on-demand.
• Compliance with WCAG 2.0 level AA standards for Accessibility.
• Compliance with ADA and anticipated amendments.
• Scalable solution without the need for storage increase in the future.
About Global Bank Achieves Regulatory Compliance
A Fortune 500 bank holding company based in the United States—with global operations and 45 million customer accounts.