OpenText Brava! Reader
View secure CSF files
OpenText™ Brava!™ Reader is a no-cost application that allows users to view OpenText Content Sealed Format (CSF) files. Viewing options include: monochrome/color toggle, thumbnails, zoom, magnifier, rotate, mirror and measure.
This nimble desktop application is easy to install and use, requiring no user training. Brava! Reader is a great way to safely share secure CSF files with external reviewers. Simply create the CSF in Brava! Enterprise or Brava! Desktop and send recipients the CSF file with a download link to Brava! Reader.
For TIFF and PDF viewing, Brava! Desktop TX or TXL offer more functionality without expiration.
Purchase OpenText Brava! Desktop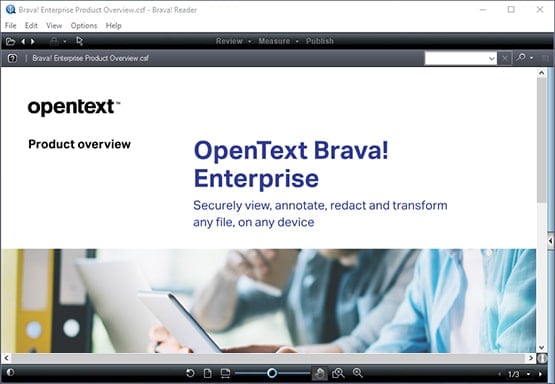 Quickly and easily view secure CSF files
Print
View markups created in OpenText Brava!
Find needed content fast with easy navigation tools
Text search
Simple desktop application – no training needed
Contact OpenText
Free Brava! Reader
Download the OpenText™ Brava!™ Reader
Related solutions
OpenText™ Brava!™ DWG Viewer