User Performance Support with OpenText Personalized Help
Accelerate User Adoption and Deliver User Performance Support
How will your organization bring together the efficiency of your OpenText solutions and the potential of your workforce to:
Support users with in-application, custom help
Drive user adoption of OpenText applications across your organization
Sustain user productivity over time and upgrades
OpenText Personalized Help allows your organization get the most out of your OpenText investment through powerful learning content authoring and workforce performance enablers.
The result? Performance support delivered at the right time, on the right device, and tailored to the user's business process and language.
Here is a link to the OpenText Personalized Help Product Overview.
Why Performance Support Matters
When you help employees better utilize OpenText applications through performance support, you help your business:
Increase help desk and call center efficiency
Increase user productivity and adoption
Accelerate introduction of new applications
Easily communicate new business process and system changes
Improve regulatory compliance
On-board new employees
Help your users become more proficient - so they can do their jobs more productively and enhance the value your organization receives from OpenText solutions.
Custom Context-Sensitive Help
From a single recording session within OpenText, record a task and produce a single-source document and simulation.
From the single-source file, an author can automatically produce numerous documents types, including work instructions, simulations, test scripts, and context-sensitive help.
Assign content development tasks to subject matter experts and enable SMEs with a lightweight, easy-to-use Rapid Recorder tool.
Create eLearning courses that incorporate conceptual information, assessment objects, branching, audio, video, and pop-ups.
Author and publish content in over 30 languages.
Custom context-sensitive help provides users with what they need to know to perform a task in OpenText: just the right content, just in time, on any device.
From the OpenText screen, users select the help option and instantly view a concise tutorial or document on how to do the task
Content is specific to the user's role and/or language.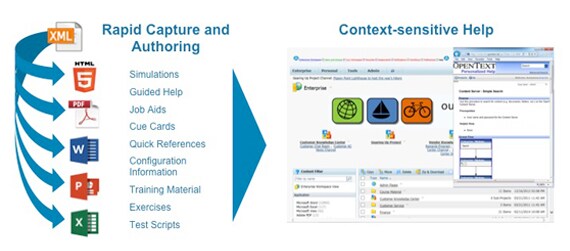 For more information, please email training@opentext.com.
Contact OpenText
Registration
Search for scheduled courses or register online:
Search or register
More Information
If you have any questions, please contact OpenText Learning Services:
Analytics, BPM, CEM, ECM, platform solutions
Americas
1-888-673-6839 x82343 (US and Canada)
Email us
EMEA
Email us
APJ
Email us
Business Network
Email us
+1-800-334-2255
Security and Forensics
Email us
+1-626-463-7966