T-Systems
T-Systems Optimizes Company-wide Collaboration Platform with OpenText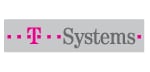 OpenText means more efficient processes, full lifecycle management and knowledge management for projects
Challenge
At T-Systems, dispersed teams and organizational changes created the need for an efficient, company-wide platform for collaboration. Their file systems did not offer the necessary functionalities for document and knowledge management.
Product(s)
Value
The OpenText system has helped T-Systems unlock value-added potential. It supports future company growth - both nationally and internationally. High user acceptance has lead to greater project efficiency, particularly in dispersed, international teams. The system has helped ensure integration in the company-wide IT environment and facilitates the construction of a comprehensive ECM platform.
About T-Systems
Growing international business, T-Systems, the busiest customer brand of Deutsche Telekom, can boast of continued success thanks to seamless integration within the organization and intensive project work.