Santee Cooper
OpenText Sheds New Light on Santee Cooper's Property Management Department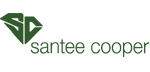 Utilities provider automates business processes and improves productivity with OpenText Records Management
Challenge
Santee Cooper had an elaborate and untrustworthy process for retaining and managing documents and records. Administrative staff were preoccupied with photocopying and spent exhaustive searches through paperwork; documents were improperly filed, damaged, or non-existent. They also experienced a loss of knowledge with employee retirement or career change.
Product(s)
Value
Santee Cooper now has better utilization of administrative staff with paperless processes. Documents are preserved and easily found with electronic imaging. Research projects have been streamlined with easy search and gathering capabilities and they've experienced an 82 percent improvement in customer service response time.
About Santee Cooper
Santee Cooper is South Carolina's state-owned electric and water utility and serves more than 156,000 residential and commercial customers in Berkeley, Georgetown, and Horry counties. The utility also generates the power distributed by the state's 20 electric cooperatives to more than 665,000 customers in all 46 counties. All total, more than two million South Carolinians receive their power directly or indirectly from Santee Cooper.