Saint Michael's Medical Center
Prominent Medical Center Modernizes Insurance and Billing Applications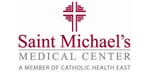 OpenText's HostExplorer® Chosen as a Cost Effective and Seamless Solution to Replace Competing Terminal Emulator
Challenge
Saint Michael's Medical Center wanted to reduce their ongoing maintenance expenses, replace terminal emulation solution with minimal costs, and streamline software configuration across the enterprise.
Product(s)
Value
Saint Michael's Medical Center has improved productivity and efficiency; leveraged existing terminal emulator profiles; provided superior customer support; an advanced centralized control and deployment; a cost-effective, out-of-the-box solution with no retraining needed.
About Saint Michael's Medical Center
Saint Michael's Medical Center is a 357-bed regional tertiary care, teaching, and research center. Combining state-of-the-art technology, the latest diagnostic and therapeutic procedures, leading-edge research, and a network of highly qualified physicians, nurses, and allied health professionals, the hospital provides top-quality healthcare services delivered with compassionate care. As a result, there is a tremendous need to keep its people, systems, and data connected to ensure 24/7 information flow in a time-sensitive environment.