Regional Municipality of York
The Regional Municipality of York Migrates to OpenText Document Management, eDOCS Edition for Improved Business Processes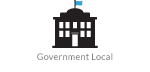 Multi-tiered architecture of OpenText Document Management system offers the Region a comprehensive set of standard functionality
Challenge
York Region wanted to transition to the latest version of the OpenText document management system and required an implementation that would not disrupt service to their staff. They had a large number of documents and emails on shared network drives.
Product(s)
Value
York Region has improved business processes across the organization and has significantly reduced the amount of time spent on document-related activities, including search and retrieval, check-in/check-out, versioning, and applying appropriate security controls.
About Regional Municipality of York
The Regional Municipality of York is located just north of the City of Toronto, Ontario. Comprised of nine municipalities, it has a population of close to one million with approximately 25,000 businesses located within its borders. The Region has an annual budget of $1.7 billion and employs 2,600 full-time staff.