Hunton and Williams
Hunton & Williams LLP Discusses the Benefits of LegalKEY®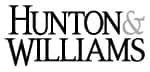 LegalKEY Conflicts Management™ Streamlines the Conflicts Checking Process
Challenge
Hunton & Williams had an outdated conflicts checking system, inefficient manual processes during new business intake, duplicate data entry with risk of human error, and inefficient search and results output.
Product(s)
Value
Hunton & Williams streamlined the conflicts clearing process, eliminated duplicate data entry, and enhanced their searching, filtering, and reporting capabilities. The firm also improved report and results output saving time and resources and improving risk management.
About Hunton and Williams
Founded in 1901, Hunton & Williams LLP represents clients in more than 100 countries on six continents. Nineteen offices in the United States, Europe, and Asia house approximately 1,000 lawyers focused on a client base that ranges from start-up companies to multinational corporations.