Fluor Hanford
Automating Client Correspondence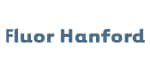 Federal government contractor installs electronic workflow solution
Challenge
A costly and time-consuming, paper-based correspondence process and the need for compliant, electronic records.
Product(s)
Value
The OpenText solutions have helped Fluor Hanford achieve their electronic records goals. Fluor Hanford can stay compliant with legislation, improve safety, and reduce labor and storage costs.
About Fluor Hanford
Fluor Hanford is an operating unit of the Fluor Corporation, one of the world's largest engineering, procurement, construction and maintenance services companies employing more than 35,000 people across 25 countries.