Leading Oil Refinery
OpenText Brava! Helps Streamline Engineering Projects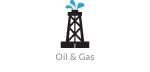 Brava! provides the refinery with the ability to index text in both documents and drawings, making the text available for searching within Content Suite.
Challenge
Standardization of document storage and viewing for multiple users and formats
Product(s)
Value
Eliminates need for multiple software applications
Saves time by providing users a simple search engine to locate files
Users can view and collaborate on a variety of formats including Word, PDF, PowerPoint® and AutoCAD®
About Leading Oil Refinery
A leading refinery that produces 500,000 barrels per day.