OpenText Thought Leadership Publications
As a global Enterprise Information Management (EIM) leader, OpenText™ helps organizations maximize the value of their information to compete and succeed in the digital world.
Discover the transformative power of EIM. Access the latest books, e-books, apps, and other compelling thought-leadership perspectives on complex technology issues and the benefits of EIM.
Cloud: The Destination for Innovation
by Mark J. Barrenechea

Cloud services, powered by artificial intelligence and machine learning, are driving digital transformation and innovation. Read this white paper to learn how to support massive datasets and complex processes with cloud computing and cloud services. Discover the types of cloud deployment, adoption methods and centralized information management that help organizations thrive today.
The Resilient Organization: COVID-19 and New Ways to Work
by Mark J. Barrenechea

Take a deep dive into the essential technologies behind building resilient organizations that can anticipate, respond and transform to meet evolving needs and changing circumstances. Learn from the OpenText CEO & CTO why resilience is essential during these challenging times and how to navigate massive disruption through secure remote working, supply chain flexibility, dynamic omnichannel experiences and much more.
Contact OpenText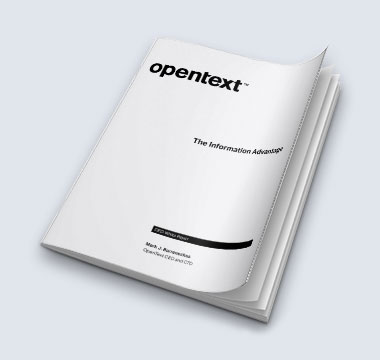 The Information Advantage

Mark Barrenechea
CEO and CTO of OpenText Mark Barrenechea shares his insights and observations on enterprise information management and the latest technologies