OpenText Gupta Team Developer
Agile development delivers superior business value
Overview
Benefits
Features
The extreme productivity of OpenText™ Gupta Team Developer (TD) helps organizations build software projects or solutions quicker than with other development languages to deliver solutions faster than the competition. Gupta Team Developer (TD) is a complete solution that includes everything needed to build desktop business applications.
Get extreme programmer productivity with agile low-code software development. Gupta Team Developer (TD) increases the chances of winning projects and delivering on time and within budget. Gupta Team Developer (TD) accelerates software development by multiple factors compared to other popular development languages.
Includes everything needed for powerful business applications, including a comprehensive UX library with data-aware controls, a reporting tool, fast database connectivity, support for Web Services providing and consuming and the ability to call JSON REST services.
Free deployment of Windows 32-bit applications, Windows 64-bit applications and .NET framework applications. .NET applications can be configured to be 32-bit, 64-bit or bitness independent.
Architecture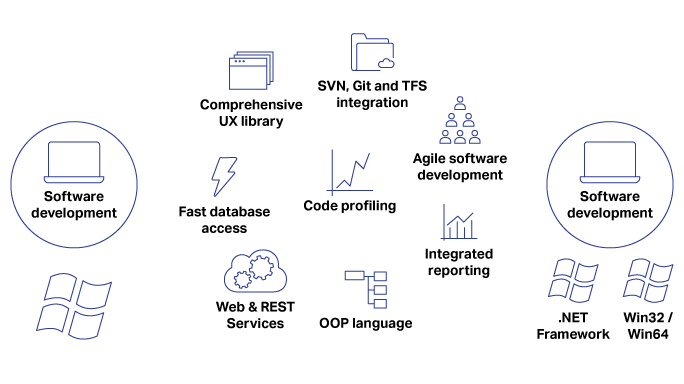 Reduce time to market of software solutions
OpenText™ Gupta Team Developer (TD) supports efforts to quickly develop and deploy business software solutions and increase business value. Impress prospects and customers with very early prototypes and with quick delivery of entire solutions, feature upgrades or custom functionality for a competitive advantage.
Gupta Team Developer (TD) agile software development
Keep lead time of an agile project to a minimum with superior productivity.
Fully support iterative and incremental development required in agile software development.
Easily enable the collective ownership concept needed with agile projects.
Support frequent builds to quickly give testers and users the latest features and fixes.
Rich, flexible and well-designed UX assembly kit
Gupta Team Developer (TD) is for ISVs and corporate development groups who need to build rich UX desktop business applications using data-aware prebuilt high usability controls. The Gupta Team Developer (TD) UX assembly kit makes it easy to build modern looking, high-usability UX applications. A rich library of powerful UX controls are available in multiple design themes. Developers and application users can customize their application look by choosing their preferred design theme. All controls of the UX assembly kit can easily be bound to data sources and the UX controls provide options to increase application productivity and create a highly customizable application experience. The modern UX appearance includes customizable Ribbon Bars, Page Navigator, a powerful Grid Control and more.
Easily integrate into existing frameworks
Consume REST services provided by software solutions, such as SAP®, SalesForce® and OpenText™ AppWorks™ to create applications that integrate into existing solution frameworks. Gupta Team Developer (TD) offers multiple ways to interact with Web Services and can create Web Service providers to publish business logic to developers. You can integrate controls from other providers, access the Windows API and .NET framework to extend the features of applications and include .NET classes built with other tools.
Gupta Team Developer (TD) includes robust high-speed database connectivity to Oracle®, SQL Server®, Sybase® and OpenText™ Gupta SQLBase. Other databases can be accessed via ODBC, OLE DB and .NET Data Providers.
One solution to quickly create desktop business solutions
Gupta Team Developer (TD) is a single package for all software development needs.
Powerful IDE
Team and source code management
Business reporting
A powerful and attractive UX design toolbox
Integration with other .NET tools and languages
Gupta SQLBase database for development and testing
Database connectivity to almost any database available
Code profiling for detecting and fixing performance bottlenecks with applications
Gupta Team Developer (TD) application platforms
Maximizes code reusability over various deployment platforms.
Applications can be .NET WPF Desktop apps that interact exceptionally well with the .NET framework and other solutions.
Build and deploy .NET WPF browser apps with the same source code used for .NET WPF Desktop apps.
Create Win32 and Win64 API based desktop business applications.
Provide business logic via Web Services to enable customers deeply integrate solutions into their software infrastructure.
Comprehensive set of well-designed, data-aware UX Controls
Powerful report builder for application-based reports and end user reporting and report customization.
Rich data grid, including visual sorting, grouping, column filters and many useful cell types, such as hyperlinks, images, buttons, check boxes and more.
Page Navigator for high usability apps.
Many modern design theme options for users and developers.
Fast and easy configuration
Integrate with Web Services-enabled solutions via REST services or XML Web Services. Connect applications to software solutions providing REST APIs, such as SAP, SalesForce, OpenText AppWorks and others. Integrate Team Developer applications with the organization's own service layers.
Fast and easy database driver configuration for Oracle, SQL Server, Sybase and Gupta SQLBase, ODBC, OLE DB and .NET Data Provider connectivity for all other databases.
Includes SQLBase development database for easy development and application testing.
Automatic code documentation features of Gupta Team Developer (TD) help developers document code without manually writing their documentation.
Team Developer IDE, Gupta SQLWindows
Modern Gupta SQLWindows IDE for lightning speed database application development.
Fast error-free coding using the Active Coding Assistant.
Outline tabs for quick code navigation and excellent source overview.
Color-coded outline structured source code allows users to quickly understand source code.
Integrated automated documentation tool.
Tools to increase developer productivity. For example, an orphaned code tool to detect unused source code, a task tool to search and manage tasks, an automated documentation tool and more.
Code profiling with properties to precisely analyze application code performance by code line.
Contact OpenText
Try It Now
Download a free trial version of OpenText Gupta Team Developer