IWB
Customer Communications Management: With OpenText, IWB develops document templates within a short term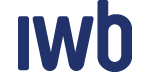 Invoices and reminders become an effective sales and marketing instrument
Challenge
The previous output management solution was not flexible enough and led to dependency on customization and specialized programming knowledge.
Generating new templates and documents took too long and was too expensive.
Printing invoices was only possible on paper, and so in the medium and long term, customer expectations could no longer be met.
Product(s)
Value
Reduced administration costs and resources required.
Reduced processing times.
The flexibility of the text and template generation and the multichannel document output improves the effectiveness of customer communications and overall loyalty.
About IWB
IWB is a major utilities company, providing customers with energy, water and telecommunciations. It provides service for customers in and beyond the Basel region, and focuses on doing so in a committed, competent and reliable way. IWB is a leading service provider for renewable energy and energy efficiency. For more information, visit: www.iwb.ch