B. Braun
Global document archive eases pressure on HR staff, saves money, and secures personal data via role-based access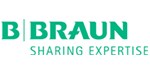 A complete overview of the career and potential of every individual employee—at B. Braun, all the prerequisites for this are in place with a company-wide OpenText solution with SAP® connection. In the struggle for talented staff, HR employees can now provide more information, which gives the company a global, competitive advantage.
Challenge
Central access to all employee files
Consistent switch from paper to digital media in the HR departments
Standardised structure for documents and folders
Product(s)
Value
Enabled staff to provide more information at all local HR locations
Increased security for sensitive employee files through workflows implemented
Clear simplification of internal and external application processes for executives
About B. Braun
B. Braun, a family company, supplies the global healthcare market with products for anaesthesia, intensive care, cardiology, extracorporeal blood treatment or surgery, as well as services for hospitals, general practitioners, and the home care sector. Dialogue with those who use B. Braun products daily constantly generates new findings which are incorporated into product development. For example, the company and its innovative products and services contribute to optimising workflows in hospitals and practices worldwide, and to improving safety both for patients and for doctors and care staff. In 2011, B. Braun generated a turnover of approximately EUR 4.6 billion with a staff of approximately 44,000 in more than 50 countries.