REWAG
Adding Content to Digitised Information to Increase Efficiency and Reduce Processing Costs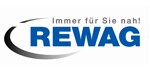 REWAG able to digitise and speed up the processing time of incoming mail and the house connection file. Processing costs were reduced by 30 percent.
Challenge
Slow processing of incoming mail

Integrate SAP with ECM to make workflows and processes more flexible

Shifting from the paper world to the digital world
Product(s)
Value
Processing costs reduced by 30 %

Better customer service as REWAG can respond to customer enquiries more quickly

All the information can be found quickly and by any individual

Compliance with statutory requirements

More efficient cooperation
About REWAG
For more than 30 years, REWAG has been responsible for the high-quality supply of energy and drinking water in and around Regensburg. With a team of 400 employees to ensure a reliable supply to approximately 200,000 customers region-wide, REWAG needed to find a solution to make internal, SAP-based information processes more efficient and user-friendly.