SABMiller
SABMiller Toast Document Management Success with OpenText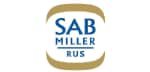 SAP Document Access by OpenText reduces invoice settlement times and and document processing tasks by as much as 50%, with staff overhead reduction of 40%
Challenge
Need to reduce the high cost of document processing
Delays due to the lengthy, expensive paper document transport process
Difficulty in meeting service quality standards
Absence of a uniform processing standard
Product(s)
Value
Processing times have been shortened
Related documents are easily accessible in SAP
Accounting procedures have been simplified
Reduction in document lossImproved customer satisfaction and reputation
Costs have been reduced
About SABMiller
SABMiller RUS LLC (SABMiller) is the Russian division of one of the largest international brewers, SABMiller plc, with operations in more than 60 countries worldwide. After entering the Russian market in 1998, SABMiller has become a leading player in the brewing industry there, with over 10 percent market share by turnover and nearly 7 percent by volume. Annual production now exceeds 6 million hectolitres.
SABMiller's portfolio of brands is extensive, including well-known beers such as Miller Genuine Draft, Pilsner Urquell, Velkopopovicky Kozel, Peroni Nastro Azzurro, Grolsch, Amsterdam, Zolotaya Bochka, and Tri Bogatirya.
Since entering the Russian market, SABMiller has invested over US$700 million, including constructing new breweries. With more than 2,000 employees in the region, the company has a complex organizational structure with wide geographic distribution of its production operations, sales and marketing, and distribution network. Their head office is in Moscow with production sites in Kaluga, Ulyanovsk and Vladivostok.