SSAB
OpenText StreamServe's e-Invoicing Solution increases SSAB Strip Production's cost savings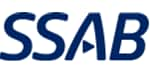 SSAB Strip Production estimates that the e-invoicing solution from OpenText StreamServe will help them to quickly get a return on their investment.
Challenge
Every year, SSAB Strip Production sends more than 120,000 invoices to customers around the world, making invoice management bulky and time consuming for SSAB and its customers. SSAB Strip Production also needed to reduce the paper and printing costs associated with distributing all of these invoices via standard mail.
Product(s)
Value
Today invoices are automatically signed with the right certificate, which eliminates the risk of breaking country-specific invoicing rules. In addition, the time spent on monotonous manual work decreased — for SSAB and its customers.
About SSAB
SSAB Strip Production is a member of the SSAB Group. It is the largest sheet metal manufacturer in the Nordics and a leading European actor in high-tensile sheet metal. Highstrength steel strip products are used in applications where high-strength and low weight are required, such as the automotive industry for heavy vehicles, by crane manufacturers, and for weight-bearing container details.