Canada 3.0
Canada 3.0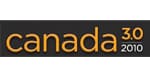 The online community, complete with embedded media, blogs, forums, member profiles, and a Twitter feed on the home page promotes dialogue and maintains momentum around the event going all year long – all of which will contribute toward the ultimate development of the Canadian Digital Media Network.
Challenge
The event is largely focused around building critical connections and networks. The Canada 3.0 Community provides a platform for continuing dialogue, based on a central repository for collecting and sharing the information, discussion, and outcomes of all event-based collaborations.
Product(s)
Value
The marketplace community is a good example of cross media integration. The site is driven largely by user generated content and uses social media to integrate online and offline presentations at the event. During its inaugural event, Canada 3.0 gathered feedback and input from attendees in order to accurately determine the goals, mission and objectives of the CDMA. Using social media content, the CDMA was able to generate interest in the show, highlight key events and collect invaluable feedback around key stakeholders, target audience, areas of focus and more.
About Canada 3.0
Canada 3.0 is organized by the Canadian Digital Media Network (or CDMN) and the University of Waterloo's Stratford Institute. Launched in 2008, the event itself provides a once-a-year opportunity for Canadians in digital media to come together to discuss the key issues and make the plans required to propel Canada to a leadership position in global digital media. The purpose of the CDMN is to link Canada's digital media clusters from coast to coast and create a digital convergence corridor, including a focus on digital media research, commercialization and innovation.