Hyatt
OpenText Provides Hyatt With a New Company-wide Intranet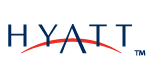 Leading hotel chain deploys OpenText Portal and OpenText Collaboration, Vignette Edition to connect its associates across the globe
Challenge
To keep a global hotel company like Hyatt delivering the type of customer service that it is known for requires the engagement of many individuals. This is particularly challenging considering that these individuals span continents, time zones, cultures and languages.
In considering how best to connect these individuals to the company and to each other, Hyatt weighed the options for online central meeting places that would promote community, facilitate day-to-day work, and enable the sharing of information. This project would deliver more than the standard company intranet. The new solution would be more flexible, scalable, engaging, and interactive.
Product(s)
Value
Hyatt implemented an intranet solution from OpenText to move the company from multiple information silos to a more connected and seamless community. Called Hyattconnect, the portal gives Hyatt associates access to an easy-to-use content management interface where they can find up-to-date information on policies, procedures, best practices and internal articles through a secure connection from any computer with a Web browser. Using the portal, individuals can collaborate on projects and tasks, reducing project timelines. The Web Content Management and Media Services components ensure efficient distribution of appropriate content and media types across multiple devices, as well as improved search capabilities.
OpenText's solutions deliver productivity improvements, enhanced knowledge management, and team effectiveness. The capabilities of the intranet solutions were crafted to support better ways to deliver resources, streamline content delivery and storage, and unify teams to enhance efficacy. OpenText's modular yet integrated standards-based solution has been designed with enterprise or large organizations' requirements in mind.
Moreover, OpenText enables intranet deployments that feature the latest collaboration, Web 2.0, social networking, video, and personalization and search technologies.
About Hyatt
Hyatt, one of the world's premier hotel companies, and its subsidiaries and affiliates (collectively, "Hyatt") provide management services for 424 hotels and resorts throughout the world to deliver hospitality to guests in 45 countries. With a commitment to personalized service and cultural relevance, Hyatt is focused on providing authentic hospitality to its guests.