People's United Bank
People's United Bank Unlocks Content for Users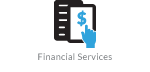 OpenText enables multi-bank branding and user-friendly content management
Challenge
People's United Bank had a rapid expansion and went from having three to eleven differently branded bank Web sites. This led to varied Web sites and multiple content owners. There were different processes to publish content and few users had the ability to edit. The bank needed a solution to ensure consistent branding and empower new and existing content owners.
Product(s)
Value
OpenText technology enabled more users to have access to content and created unified Web site branding. The OpenText solutions were implemented quickly and within time frames. Hard-dollar return on investment (ROI) was achieved.
About People's United Bank
People's United Bank is the largest regional banking organization headquartered in New England. Having been in service more than 165 years, People's United Bank is steadily increasing their employee and customer base.