National Institute of Allergy and Infectious Diseases (NIAID)
The National Institute of Allergy and Infectious Diseases' (NIAID) integrated solution delivers functional, technical, compliance, and cost requirements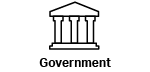 The unique integration of OpenText Content Lifecycle Management with existing technology enhances collaboration across NIAID's widespread workforce
Challenge
NIAID needed to manage a significant increase in electronic data and communicate and collaborate across numerous different locations. NIAID wanted to enable the seamless integration of a sophisticated ECM solution with their existing technology and adhere to government regulatory requirements.
Product(s)
Value
NIAID has improved collaboration to overcome geographical barriers. The organization has increased productivity and efficiency with real-time access to information; experienced cost savings through integration with existing technology; improved process efficiency and quality; and are compliant with government regulatory requirements.
About National Institute of Allergy and Infectious Diseases (NIAID)
NIAID is part of the National Institutes of Health (NIH), which is an agency within the U.S. Department of Health and Human Services and the primary federal agency for conducting and supporting biomedical research. NIH's key objectives are to prevent diseases and to investigate causes, treatments, and cures for common and rare diseases. It is made up of 27 institutes and centers, including the National Cancer Institute, the National Library of Medicine, and NIAID.