Metro Cash and Carry
Metro Cash & Carry — Achieving visibility of invoice processing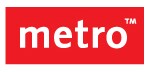 Retail giant Metro uses OpenText Business Process Management (BPM) Server for its invoice controlling processes.
Challenge
More visibility into their processes and greater ability to attain discount deadlines. Elimination of errors in the invoice checking system and acceleration of invoice processing time.
Product(s)
Value
Greater compliance with discount time periods has been attained and the invoice verification system has been automated. Process visibility and reliability have increased and an automatic generation system for confirmation/change request letters to suppliers has been created.
About Metro Cash and Carry
The METRO Group is the global market leader in the self-service wholesale area. Almost fifty percent of the organization's turn-over is generated by this business segment. With a presence in 26 countries, Metro Cash & Carry employs over 72,000 staff, and has an international presence in 26 countries, with 59 supermarkets on its domestic German market alone.