Jefferson County
Jefferson County Relies on OpenText to Gain Better Control over Information Assets and Improve Business Processes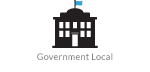 OpenText Records Management ensures that all records, regardless of format, are easy to find and manage according to the county's retention scheduling processes
Challenge
Outdated and inefficient system for managing and accessing information; large volume of paper documents, forms and applications taking up storage space; responsiveness and quality of service
Product(s)
Value
Digitized electronic assets increase productivity and efficiency and reduce storage space. Jefferson County is saving costs and time by eliminating manual processes and moving to an automated system across departments.
About Jefferson County
Once an agricultural and mining area, Jefferson County, Colorado is now a thriving suburban, business, industrial and residential community. It is the second largest county in Colorado, with a population estimated at 535,837.