Davis + Henderson/Filogix
OpenText and Filogix Create Collaborative Document Management Solution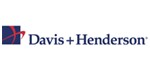 Exchange 2.0 facilitates electronic exchange of data and deal documents for mortgage brokers and lenders
Challenge
Originators and lenders wanted more streamlined processes for communicating and exchanging transaction information. Developing a faster, more efficient and secure system that uses less paper was going to be essential and a tremendous value-add for Filogix clients in the mortgage market.
Product(s)
Value
Mortgage brokers and lenders share and collaborate with all those that touch the deal in a highly secure environment. All documents are stored directly to a central deal folder either by faxing or uploading. Documents can be electronically sent back and forth, commented on, faxed or emailed out, and archived without a restriction on the size, number of pages, or document file type, for as long as required.
About Davis + Henderson/Filogix
Davis Henderson is a leading provider of credit solutions for the retail lending, small business lending, commercial lending, equipment finance, real estate, and mortgage industries. As of June 2006, Filogix Limited Partnership started operating as a subsidiary of Davis Henderson Income Fund.