Energen
Improving business processes with integrated solutions from OpenText and SAP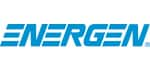 Deploying multiple products from the OpenText ECM Suite for SAP Solutions enables Energen to automate key business processes throughout the organization
Challenge
Energen needed to decrease the amount of time spent searching and re-filing documents. The company wanted to improve invoice tracking, streamline the approval process, improve visibility of non-purchase order liabilities, reduce the length of time spent responding to vendor inquiries, and ensure a more efficient internal control system.
Product(s)
Value
OpenText ECM Suite for SAP Solutions has helped Energen process key business documents much more quickly and efficiently. They have significantly reduced invoice approval time (minutes vs. days), increased early-payment discounts, improved their ability to track invoices in the approval process, and increased the visibility of all accounts payable documents.
About Energen
Energen is an oil and gas company headquartered in Birmingham, Alabama. Energen's subsidiary, Alabama Gas Corporation, is a natural gas utility with seven divisions within the state of Alabama. Energen Resources has oil and gas exploration in many different locations within the United States including New Mexico, Texas, Arkansas and Alabama.