The City of Scottsdale
The City of Scottsdale Improves Information Flow with OpenText Document Management, eDOCS Edition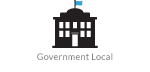 OpenText DM system provides the City with easy access to public documents and records, improving overall efficiencies
Challenge
The City wanted to provide an efficient method for sharing documents across the organization. They needed to ensure suitable document security and reduce duplication of documents with version control mechanisms. Additionally, they wanted to introduce a more efficient method of controlling the flow of work throughout the organization.
Product(s)
Value
Users are now provided with one central repository for managing content lifecycle, including paper, electronic documents, and email. Easier access to public documents and records allows staff to respond quicker to constituent information requests. Secure search, retrieval, and back-up capabilities enable better management and access to electronic content, improving approval cycles and enhancing productivity.
About The City of Scottsdale
Located in the Sonoran Desert of the Phoenix metropolitan area, Scottsdale is a diverse city of about 240,000 people and is known across the United States for its arts, tourism, and quality of life.